My Team
As a Financial Representative for the Northwestern Mutual Financial Network, I am committed to helping my clients whether they are concerned for their own financial needs or those of their family or business. I don't do it alone. Danielle Arnett is on my team and she is one of the people who help make it all happen.
Together, we stand committed to providing the best customer service possible. If you have a problem or need assistance at any time, please do not hesitate to let us know.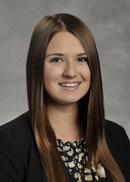 Danielle Rae Arnett
Associate Financial Representative
Office 916-929-7200

Danielle is a former College Financial Representative of Northwestern Mutual, and has returned to the company to work on my team. Before joining the team, Danielle studied Finance at California State University, Chico, and Business Administration at Cuesta College in San Luis Obispo. She was raised in a very small town in Northern California called Rio Vista. Being brought up in a highly communal environment, Danielle stresses the importance of strong personal and professional relationships with others- especially clients. She is extremely committed to the overall success of our clients, and is always willing to lend a helping hand.